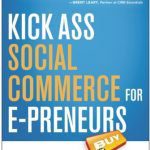 As I move toward year 5 of full time with Peak-Careers Consulting, I find that I am exploring e-marketing and social commerce much more than ever. This book really does a great job of helping me focus my efforts online to 'reach out' and find more customers. It is NOT about just building a database of emails but of engaging people, adding content & value to their work first. One key is to LISTEN to people first to understand their needs and I have been taking this advice to heart recently by hosting a focus group (Wow, did I learn a lot from them!) and by sending out a survey to find out where people hangout online.
The five P's of Social Commerce are platform, perspective, participate, personal, and pure. I love how the authors break this down. Ultimately my take a way is that it is all personal and that you have to be honest and real with people. If they know you and respect you good things will happen.
Second great tip. Offer value 80% of the time and sales only 20%. I think my instincts have been right on this but it is a good reminder.
There is so much good information in this book that I found myself highlighting all the time and making notes on things I need to do in order to improve my business. If you are looking for tips on reaching an audience of people on line, I recommend reading this book.