First off, thanks to all of you who responded to my survey on interviewing trends sent out in June. The second part of that survey on 'biggest mistakes in interviewing' will come out next.
Career practitioners need to stay current on interviewing trends so we can help our clients/students.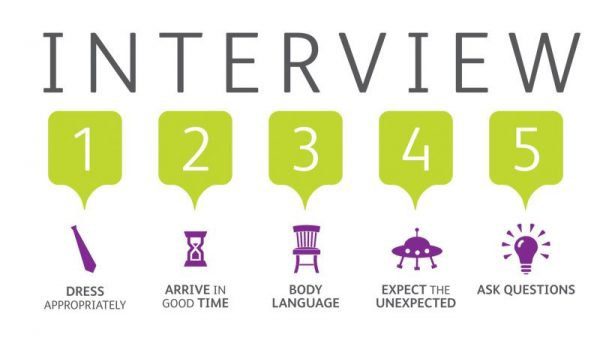 One thing I see in the results of the survey is that things have not changed too much in the past few years. Yet some people are still surprised about the process…and that is not good for them. Helping our clients be prepared for this process is so important.
Interviewing Trends #1. Use of technology in the process.
There are many more interviews being done using Skype or Zoom. There may be an initial phone interview to screen out applicants followed up with a video interview before they bring people to a live interview.
Career Practitioner tip: Make sure your clients are prepared for this type of interview. They need to be made aware of lighting, background, the height of the computer monitor (eye level view), pay attention to noises and possible interruptions.
Many employers are now using tools such as Hirevue which is more of a 'digital video interview'. They send a link to a site where you have three to five questions to answer in an allotted time frame. You log in, the questions come up, you answer them, and then move on to the next question. You are essentially talking to yourself and recording your answers.
Career Practitioner tip: Just like mock interviews, this is something we should practice with our clients. Talking to 'no one' could be very difficult for lots of people. How do you create a positive, emotional, authentic feel when you are simply talking to a screen? Radio DJ's do this all the time but it takes practice.
As a side note here, engineers and physical science positions are often asked to "whiteboard problems" out so the companies can see the process they are using.
Career Practitioner tip: This is not an area I am familiar with, so I would have to seek assistance with this one. Does anyone have any advice to share on this topic?
Interviewing Trends #2. More than one round of interviews.
A number of people responded in the survey that they are seeing three or four rounds of interviews. Even though the unemployment rate is so low, employers are still doing a number of interviews to figure out if the candidate has the skills to do that job and that she or he is a good company fit. (This obviously depends upon the level of the position).
Career Practitioner tip: Help your clients do 'due diligence' to determine what can be expected when they are offered an interview. How many will there be? Is it a group or individual? Is it a phone, Skype, or in-person? What are they looking for in each round? Some of this information can be found on Glassdoor.com and others would need to be searched for using LinkedIn to find current or past employees who could help. Sometimes you simply need to ask the person setting up the first interview. As a quick reminder, candidates should ask for the names of all the individuals that will be interviewing them, so they can look them all up on Linkedin beforehand.
Interviewing Trends #3. Are you a good "fit"?
Lots of employers are looking for people who "fit" into the culture of their company first, even over actual skills. (This may be why there are so many interviews). Education and related skills might be important, but companies want to know if you have the overall employability skills to be successful in their company. This is what I see as the 'adaptability quotient'. Can you come in and work with others in our culture and be adaptable to the changes in the market? We can teach bright, adaptable people the skills that work for us, but will you fit in and stay for awhile?
Career Practitioner tip: Mock interviews are so important for many people. We need to make sure our clients are sending the message that they are sensitive to and aware of company culture. We need to encourage our client to do their research on the company across all their social media platforms. (Proper Planning Prevents Poor Performance).
Interviewing Trends #4. Behavioral Questions.
No surprise here. Behavioral questions are common and we need to make sure our clients are prepared for a variety of these questions.
Career Practitioner tip: Work with your clients on having at least 5 stories of accomplishments or successes that highlight their skills told in the SAR model (Describe the Situation, the Action steps, and the Results). Also called STAR or PAR models. Many of these stories can be adapted to answer a wide variety of questions. This article at The Muse is a great place to start practicing answers to some common behavioral questions. (The Muse).
Interviewing Trends – Miscellaneous.
These trends were mentioned but did not have enough people saying the same thing for me to give them their own category.
Some employers are giving assessments that demonstrate you can actually do the work.

Some are using case studies and others are using personality tests.

A few employers are using speed interviewing where you have 10-20 minutes and then move on to the next person. (See #2 above and ask what to expect when you get your interview set up).

Some are using group interviews.
What other advice do you have for people to prepare for these interviewing trends?
I would love to hear your thoughts.
Read my other blogs on interviewing here.
Jim Peacock is the Principal at Peak-Careers Consulting and writes a monthly newsletter for career practitioners. Peak-Careers offers discussion-based online seminars for career practitioners focused on meeting continuing education needs for CCSP, GCDF and BCC certified professionals as well as workshops for career practitioners and individual career coaching.
Sign up here to receive my TOP 10 TIPS WHEN WORKING WITH AN UNDECIDED PERSON. You can also receive the career practitioners newsletter which includes a variety of career topics, industry news, interesting events, and more.