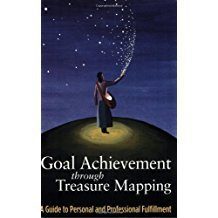 I attended the Minnesota Career Development Association in the spring of 2017 (I was fortunate to do a pre-conference for them). One of the sessions I attended was with Barbara Laporte on Treasure Mapping as a way to reach goals. It was an intriguing session that supports my thinking on "asking the universe" for answers, staying positive, and creating luck in our lives.
I just finished reading her short, easy to read, practical book on treasure mapping. Barbara breaks the process down, talks about possible struggles or barriers, and has great summary at the end of each chapter along with a "reflections" exercise to help you create your treasure map.
Treasure mapping is a great way to visually show your goal using pictures, images, and phrases. In her session at MN-CDA, she had a bunch of magazine pictures cut out along with various words cut out that we glue-sticked onto color paper. It was fun! It also helped me get my 'head around' one of my long term goals…to deliver career workshops in New Zealand. I traveled through New Zealand after graduate school for about 6 months. Primarily I was backpacking but I also interviewed Student Union Directors and Student Government leaders and wrote an article comparing them to Student Services in the US.
She gives a number of stories of successful treasure maps (besides her own) that are really amazing to hear.
Since reading the book, I have created another treasure map for another goal…but I'm not telling you what that is. Maybe I will when it happens.
Jim Peacock is the Principal at Peak-Careers Consulting and writes a monthly newsletter for career practitioners. Peak-Careers offers discussion-based online seminars for career practitioners focused on meeting continuing education needs for CCSP, GCDF and BCC certified professionals as well as workshops for career practitioners and individual career coaching.
Sign up here to receive my TOP 10 TIPS WHEN WORKING WITH AN UNDECIDED PERSON. You can also receive the career practitioners newsletter which includes a variety of career topics, industry news, interesting events, and more.