It has been a wonderful visit showing Flat Kate around my area of Maine. I have tried to show her things here in Maine that you can't find in Minnesota. I was hoping to get her to the ocean but I've run out of time, so I'll just show you a couple pictures of my favorite ocean scenes.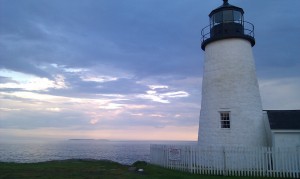 This is the Pemaquid Lighthouse near where we vacation every year for the last 24 years. This is the same lighthouse found on the new quarters. (I sent one to you with a few other Maine trinkets).
The picture below is me in front of a real Maine "working harbor" where we watch fisherman and lobsterman leaving early in the morning and returning late in the afternoon with their catch.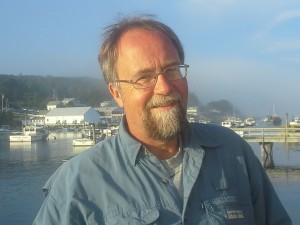 Behind me you can see New Harbor and is about 50 miles from our house.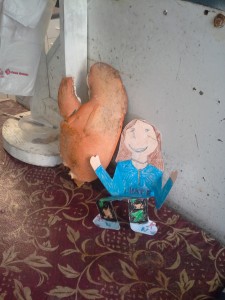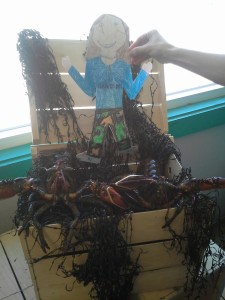 That is the claw of a 30 pound lobster! And then you got to play with a couple of live lobsters, each about 2 pounds.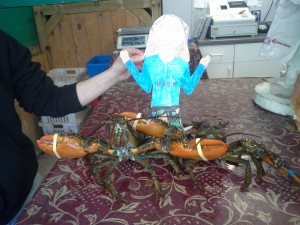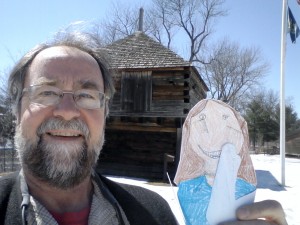 This is Fort Halifax in Winslow Maine located on the Kennebec & Sebasticook Rivers. Rivers were the main way people traveled in the 1700's and they needed forts to protect themselves the French and their Native American allies.
It is the oldest blockhouse in the United States and was the corner of the original fort. 1754 – 1755.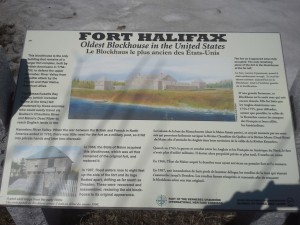 I also took you to our state capital, Augusta, which is about 15 miles from where I live. I was hoping the Governor would come out of his house but he never did.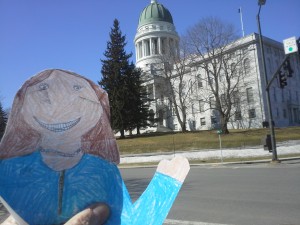 He lives in the Blaine House which is right next to the Capital.
There is another fort from the 1700's here too!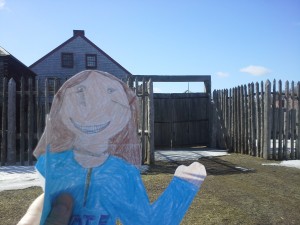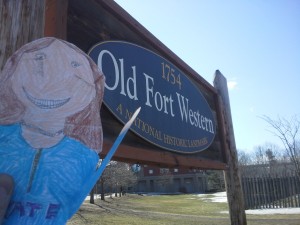 I was teaching a class for career counselors and one person was doing a presentation on how to eat properly at a fancy restaurant. Make sure you always pass the salt with the pepper when you eat at a fancy restaurant.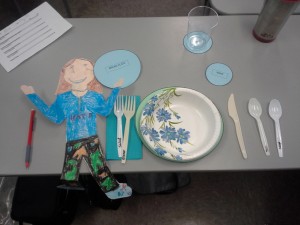 I also work at Colby College as a Career Counselor 2 days a week. It was founded in 1813, Colby is the 12th-oldest private liberal arts college in the country. www.Colby.edu These 2 Colby students wanted to show you the library.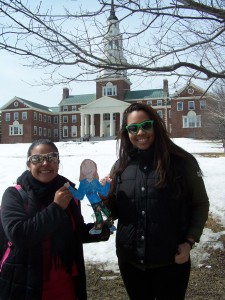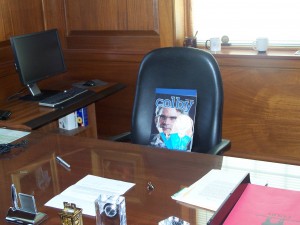 This is the President of Colby College's desk. He wasn't in but we still went in for a picture 🙂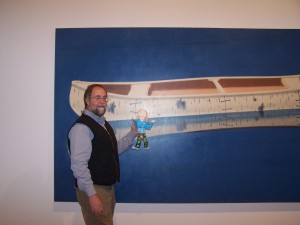 This is an amazing Art Museum that I would love to take you and your parents to if you ever come to visit us in Maine.
This picture is of you and me in the section of the museum that feautures the famous American artist, James Whistler. His most famous painting is "Whislter's Mother". You can learn more about him at http://www.ibiblio.org/wm/paint/auth/whistler/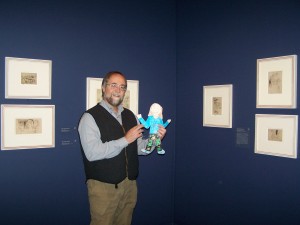 **The Colby student who took this picture is Paige Whistler, the great-niece of James Whistler!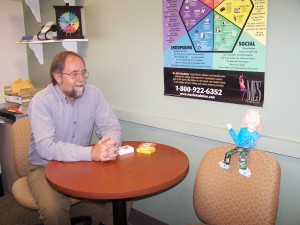 I am a Career Counselor so we sat and talked about jobs you'd like to do some day.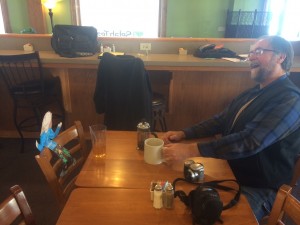 I was exhausted so we went to my favorite tea restaurant and had a wonderful cup of tea, telling each other stories.
People from Maine are called "Mainers" and the ones who have lived here their whole lives and especially the ones who live on the coast, have very thick accents. They sound quite different than people from Minnesota. You can listen to a Maine story teller here.
That's all for now. It was great to have Flat Kate visit. Now I want to see the real Kate and her family come to visit us in Maine!