This book came highly recommended to me by my good friend and fellow bibliophile, Scott Woodard. It did not disappoint. I love it.
So much good thought-provoking ideas here about how we need to be vulnerable in order to lead. We need to let others know we are not perfect and that it is OK to make mistakes…as long as we learn from them.
Another message Brene brings out a variety of ways is something I say, "humans are complicated animals." She talks about the importance of taking the time to understand WHY a person is acting a certain way. It may appear to be anger but it could be lack of confidence or shame or something else. Good leaders create a space where it is OK to talk about this stuff and it is OK to make mistakes. To listen with no judgement to try and understand what is really happening deeper in this person.
Good leaders need to be curious (one of my favorite traits for me and clients) so that you genuinely want to figure out what is happening. A few examples of her questions are:
I'm curious about…
Tell me more.
That's not my experience (instead of saying you are wrong about that person or experience)
Help me understand…
All of these are great questions for career coaches too as we try to understand our clients and help them move forward in their career development.
She quotes George Loewenstein's definition of curiosity, "curiosity is the feeling of deprivation we experience when we identify and focus on a gap in our knowledge." I love that definition as we help our clients find something they interested in and then help them to be curious about ways to find more information through informational interviews, classes, internships, etc…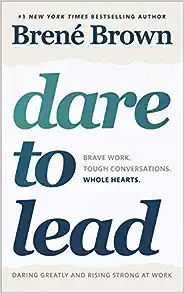 Here key points are to:
Take action if doing it moves you closer to what brings you joy and meaning
Choose courage over comfort (deal with it rather than walk away)
Choose whole-heart over armor (armor is the wall we put up to protect ourselves)
Confront our emotions by identifying them, creating alternate plans, seeking advice, and then taking action.
If you are looking for a thought-provoking book that helps you grow as a person and a leader, this is one to read.