This book by Spencer Niles, Norman Amundson, Roberta Neault, and Hyung Joon Yoon is a timely book filled with examples of case studies from people dealing with the Covid-19 pandemic.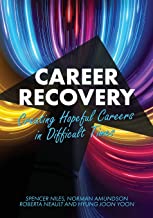 The authors introduce the Hope Action Theory which focuses on Self Reflection first with a number of activities provided in the book, then moves to Self Clarity, again with case studies and worksheets you fill out to help you clarifies what is important to you.
Visioning is next followed by Goal Setting & Planning, then Implementing and Adapting. All of this is centered around HOPE. Each section is easy to read as it is written for the end-users in mind. This is a very practical book walking people through the entire career development process with real cases of people, many of whom have been affected at work by the pandemic, so it is extremely timely.
It is chock-a-block full of activities that help make the point they are exploring and really help the person explore each of the components of the Hope-Action Theory.
When I interview Spencer, "Skip", Niles this summer (watch now) he emphasized that "hope" without "action" is not nearly as helpful as "hope" with "action" when we are trying to move forward in our career development.
This is a well-thought out, practical book for the consumer who is struggling with their careers for any reason. The authors walk the readers through step by step on how to create hope in their own career development.