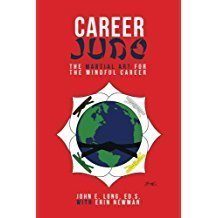 I really like this book which uses Judo as a way to describe the career process. Judo uses control, wisdom, and patience. Your career development requires this as well.
John lays out the various steps required to find your next job with concrete examples of what you should do. Not only that, he describes why you should do it. He starts with helping you discover what makes you unique and moves to how to capture that in all forms of communication from your resume, cover letter, to your online professional presence, all the way through the interview.
Tying Judo quotes throughout the chapters to make his point, is done mindfully and powerfully. In one of the final chapters that speaks to staying positive (with great tips on how to do that), I found this quote,
"Judo teaches us to look for the best possible course of action whatever the individual circumstances".
Jigoro Kano, the founder and master of judo
As you explore your strengths, values, traits, and passions, looking for a possible career out there you could be happy in, "look for the best possible course".
You get concrete specific tools to develop your resume, cover letter, LinkedIn profile, interview, and more in a positive uplifting style.
Well done, I highly recommend this book for the person who is struggling on what to do next and needs a good place to start. You will know what you need to do, how to do it, and have the mindset to stay positive throughout.