Watch this "career advice in a quarantine" Peak-Careers Interview with our career experts.
I was not going to hold a Peak-Careers Interview this month because I had a 10-day vacation scheduled to the Florida Keys and was going to be "off the grid". But that did not happen due to the Covid19 quarantine.
As our nation is shutting down to slow the progress of Covid19 spreading, it is important to take care of ourselves. If you are looking for work, or if your work has been cut off temporarily, you need to take care of yourself.
Listen to this interview where I ask these career coaches:
1) What advice do you have for people who are in the process of looking for work during this Covid19 quarantine?
2) What opportunities do you see?
3) What can individuals do to help themselves and others cope in these unprecedented times?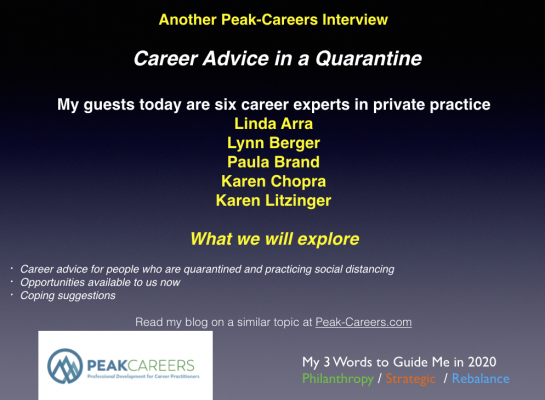 BIOS
Paula Brand, founder of Brand Career Management (BCM), is a Global Career Coach & Consultant, LinkedIn Expert, Speaker, Trainer and Facilitator with more than 20 years of experience in workforce development, education, human resources and career counseling. She helps professionals strategically manage their careers, apply effective job search techniques and leverage social media tools to secure their best career options with ease. Paula has a passion for empowering mid-career to executive women. You can find out more about her and BCM at https://www.brandcareermanagement.com/
Karen James Chopra, LPC, CCC, NCC, is the founder of Chopra Consulting for Consultants (www.KarenChopraConsulting.com), which helps therapists, counselors, coaches and other consultants create thriving businesses. She also has a well-established career counseling private practice in Washington, D.C. (www.ChopraCareers.com), and has helped hundreds of clients with career exploration, job search, and career management.
A former U.S. Government trade negotiator, she is the author of Coaching Career Clients on Salary and Other Workplace Negotiations and numerous other articles on the business and practice of career counseling. MCDA has honored her with both their Outstanding Career Practitioner and Lifetime Achievement awards. She received her M.A. in Community Counseling from the George Washington University, and her B.A. from the University of Virginia. She also has a master's degree from Georgetown University's School of Foreign Service.
Lynn Berger is a Career Counselor and Coach specializing in helping people effectively transition to jobs and/or careers, balance their roles and responsibilities and understand their choices. Lynn received two Masters – one in Organizational Psychology and the other in Psychological Counseling from Columbia University. She is a Licensed Mental Health Counselor, National Certified Counselor and Certified Career Counselor. Ms. Berger has appeared as a guest expert on radio and television shows across the country. She also authored, "The Savvy Part-Time Professional- How To Land, Create or Negotiate The Part-Time Job Of Your Dreams." Lynn was awarded the Outstanding Career Practitioner award from the New York State Career Development Association.
For more information about Lynn and her practice, you may consult her website at www.lynnberger.com
Karen Litzinger. Through her twenty year business, Litzinger Career Consulting (www.KarensCareerCoaching.com), Karen Litzinger has been helping individuals from high school through retirement be happier and more successful. Karen has also provided outplacement services and business etiquette training to major corporations including Westinghouse, Delta Airlines, PNC Financial Services, Mellon Financial Services, and CVS Pharmacy.
Karen attained the highest counselor designation of Certified Career Counselor through the National Career Development Association. She is also a Licensed Professional Counselor and Board Certified Coach. Prior to starting her business, Karen was Director of Career Services at Chatham University and Career Center Associate Director at Carnegie Mellon University.
Linda Arra, LPC, NCC, is a career counselor who helps people uncover their passions and talents, and achieve career success. She has extensive experience with new college graduates and early career professionals, as well as career changers of all ages. After leadership roles in career counseling and workforce development programs at Lafayette College and Northampton Community College, she started Linda Arra Career Coaching. Under Linda's direction the Career Center at Lafayette College was recognized as a "Top Twenty Career Center" by The Princeton Review five years in a row.
Linda provides career counseling, job search and interview coaching, as well as career management consulting to individuals and organizations. Linda's approach to career counseling is grounded in Positive Psychology, a field studying "what works well" in individuals and in organizations. She focuses on strengths, and provides practical ways to pursue careers aligned with interests and values, and which provide meaning and purpose in one's life.
Linda holds an M.A. in Counseling from Lehigh University, a B.A. in Psychology and Spanish from Lafayette College, and a Certificate in Positive Psychology from the Wholebeing Institute. Contact her at https://www.psychologytoday.com/profile/258236 or at [email protected]
Jim Peacock is the Principal at Peak-Careers Consulting and writes a weekly email for career practitioners. Peak-Careers offers discussion-based online seminars for career practitioners focused on meeting continuing education needs for CCSP, GCDF and BCC certified professionals as well as workshops for career practitioners and individual career coaching. He is the author of A Field Guide for Career Practitioners: Helping Your Clients Create Their Next Move
Sign up here to receive my TOP 10 TIPS WHEN WORKING WITH AN UNDECIDED PERSON. You will also receive the career practitioners weekly email on a variety of career topics, industry news, interesting events, and more.