By Ken Rusk
I am a former guidance counselor and a career counselor at the college level, but one of my soap-box issues is the fallacy that all people need to go to college. There is no way we need everyone to college as only about 20-30% of all jobs requires a college degree. It is a cop-out to send this message to our youth and Ken Rusk does a great job at sharing his blue-collar perspective…and success.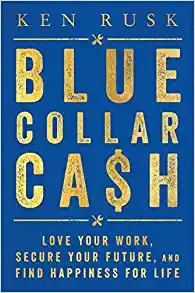 He and I both agree that college is a great option for some people. And equally so are the many blue-collar jobs.
Ken Rusk does a great job at showing the advantages and disadvantages of going to college. Disadvantages being the 4-year commitment (and 4 years out of the workforce), the student loans (average person has $40,000 in debt when they leave), but also the fact that many college students would simply be happier in a blue-collar job.
A Harris poll showed that 86% of blue collar workers were happy with their jobs and 85% believe they are headed in the right direction! This is contrary to many other polls I've seen that show so many people are UNhappy in their jobs.
He does a great job at helping people see that happiness can look differently for each person and that using skills in a wide variety of blue collar jobs can bring happiness to many people…and a good salary as well.
His advice at setting goals is very good and his belief that we should all help each other by sharing our own super-powers with others, is great.
This is a book I will be recommending to my clients who are unhappy at college, may have started college and dropped out, or for someone who never attended college and needs a confidence boost to know that there are other options out there.