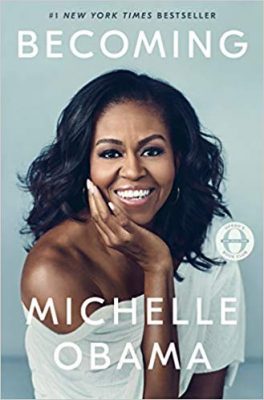 From the South Side of Chicago to the Whitehouse. What an amazing journey.
What I loved about this book was the insight into how Michelle Obama thinks and her passions. Along with her thoughts and passions, you also get a taste of President Obama's thoughts and passions. Both of these people are passionate about helping under-served populations get a leg up.
Her South Side upbringing was fairly typical middle class and a blue collar working class family. Nothing special and also not poverty. The things I loved about her description is that it could have been my family…loving, supportive, caring about education. Of course, my life was easier being caucasian.
Her constant drive to do her best and challenge herself is impressive. But even more impressive is her desire to help underserved populations which she did as a lawyer in Chicago and also as First Lady in the White House. Her ideas were big and far-reaching and her commitment to getting them done through collaboration impressive as well.
This book was very enjoyable and I have more admiration now for both Michelle and Barack Obama than I did before reading this. I can see why it is a #1 seller.