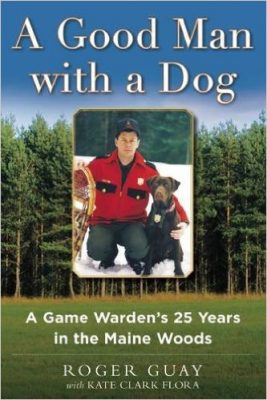 A Good Man with a Dog. A Game Warden's 25 Years in the Maine Woods. By Roger Guay with Kate Clark Flora
I had heard Maine Public's radio show, Maine Calling interview Roger and Kate Clark Flora who helped Roger pull this book
from his 25 years of diaries. What a great book at providing insight as to what Game Wardens do and how the job has changed in the past quarter century with the advent of 4 wheelers and snowmobiles into the environment. They are spending much more of their time on OUI violations and accidents, as well as people getting lost in the woods much further out than people could go before. (with the exception of a few hardy souls who could 'map & compass' their way to remote lakes).
He starts and ends with his two short stints of helping FEMA clean up after hurricane Katrina and what a terrible experience that was.
His work with his dogs helping finding poachers, violators, and rescue missions was the best part for me. I love how he connected with his dogs over the years and had to really learn to listen / trust them. I had no idea they had to do so many "missing persons" rescues and so many "find the bodies" searches.
If you love the outdoors and Maine, you will will enjoy this book with many stories of the outdoors. I would love to sit around the campfire with Roger…it would be entertaining and enlightening for sure.