My guest today isDavid DeLong , President of Smart Workforce Strategies
Today we explore:
What trends are you seeing in the workplace now due to the year-long pandemic?  and  What can career coaches do to help their clients navigate their job search?
I appreciate David's knowledge and perspective on what this pandemic has done to our workforce, and likely worldwide although we didn't discuss that. His historical perspective of comparing 2020-21 to how we as a nation came out of World War II, is very interesting. He offers clear, specific, tips on what we can do as career coaches when working with our clients in these difficult times.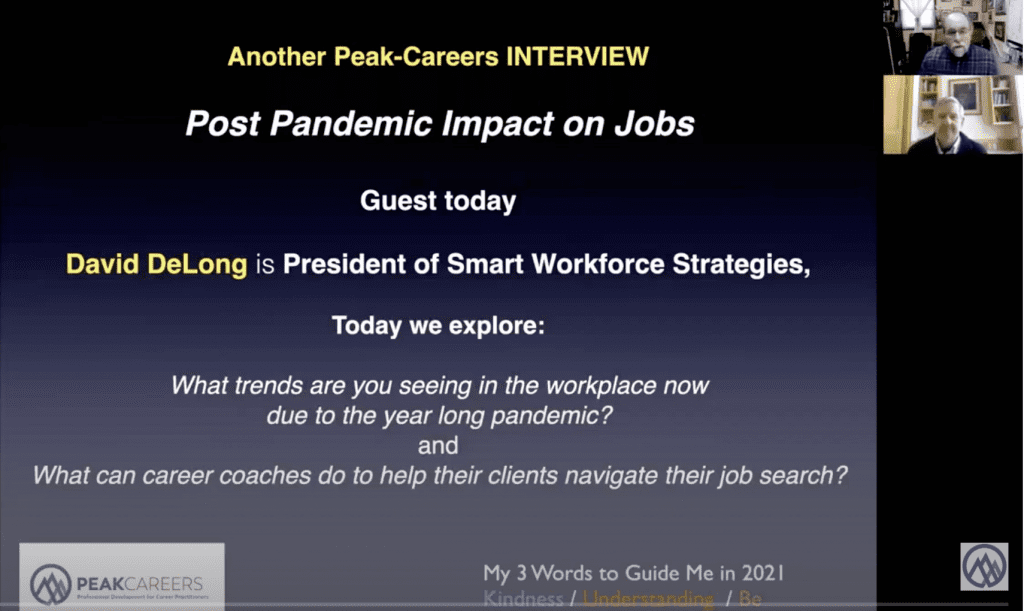 BIO: Dr. David DeLong helps leaders identify practical solutions to critical skill shortages and workplace challenges created by the COVID-19 recession. President of Smart Workforce Strategies, David is an author, speaker and consultant who has also been a research fellow at the MIT AgeLab.
His forthcoming book is Building Tomorrow's Workforce in Today's Economy. He is also author of Graduate to a Great Job: Make Your College Degree Pay Off in Today's Market, and co-author of The Executive Guide to High-Impact Talent Management (McGraw-Hill).
David delivers customized virtual keynotes, workshops, breakout sessions, and executive briefings on challenges of thriving in today's workplace, as well as solutions for recruiting, developing and retaining talent in the COVID-19 recession. His research focuses on solutions for major changes in workforce demographics, shifts in generational values and implementing new technologies. 

Learn more about David here www.SmartWorkforceStrategies.com
---
Jim Peacock is the Principal at Peak-Careers Consulting and writes a weekly email for career practitioners. Peak-Careers offers discussion-based online seminars for career practitioners focused on meeting continuing education needs for CCSP, GCDF and BCC certified professionals as well as workshops for career practitioners and individual career coaching.
He is the author of A Field Guide for Career Practitioners: Helping Your Clients Create Their Next Move and the recipient of the 2020 Kenneth C. Hoyt Award from the National Career Development Association.
Sign up here to receive my TOP 10 TIPS WHEN WORKING WITH AN UNDECIDED PERSON. You will also receive the career practitioner's weekly email on a variety of career topics, industry news, interesting events, and more.