This book review comes from Barry Davis, a man I met years ago at the Mid Atlantic Career Counseling Association conference and who has become a friend and inspiration to me to read more books.He is the reason I have a book section on my blog. Thank you Barry!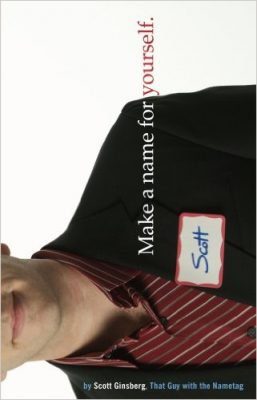 "Make A Name for Yourself"
– Ginsberg, Scott
The third book from Scott (The Nametag Guy) and self-described as 55 Strategies to Fast-Track Your Professional Prowess, reads like a collection of blogs on a wide range of topics helping you to "make a name for yourself, because no one else will." Replete with quotes from every imaginable source (and some unimaginable), his practical, in your face advice includes the following gems:
Fans, not customers.
Nobody notices normal.
Opportunity knocks daily.
Prepare for serendipity.
Usefulness is worship.
Don't be friendly, be approachable.
Don't be different, be unique.
Don't be some guy, be That Guy.
As a result, you won't just be memorable; you will be unforgettable. You will make a name for yourself.
"Don't try to be different. In fact, don't try to be anything. Just be. Be yourself. Be the same person no matter where you go. As a result, you WILL be unique. And people will notice. Because there's nothing more approachable than authenticity." – Scott Ginsberg
———————————————–
Learn more about Barry L. Davis, MS, CTC, MCS
Career Coach | Professor | Speaker | Blogger | Minister | Marathoner
– Certified Talent Consultant, Master Career Specialist