Are you walking too fast?
Want to know how to slow down?
I just finished an 81-mile backpacking trip on the Pacific Crest Trail (PCT) in California with my two hiking buddies of 38 years. (Rees and Howard). We have been section-hiking the entire 2650 mile trail from Mexico to Canada since 1981 and Howard was completing the PCT on this 81-mile section…I had to be there with him.
There are many ways to hike the PCT. We choose to do sections ranging from 50 miles to 400 miles in length picking different sections from 1981 to present. Other people, called 'through-hikers" attempt to do it in a single season, typically from April to October.
While walking about 11 miles per day and reflecting on many things, I considered the dichotomy of these two approaches to the same trail. My hiking buddies Rees and Howard often talked about what the through-hikers were missing in their sprint to do the 2650 miles in ~5 months. My point has always been that there is more than one way of hiking this trail…just like there is more than one way of navigating your career development.
Section hiking allows us to hike at some of the best seasons for each section of trail. Rees and I hiked in the Mojave desert three years ago in April and were lucky enough to catch the desert bloom. The wildflowers were amazing!! We were able to hike this last 81-mile section in early August after a HUGE snowfall year that shut down the high Sierra's in May and caused many through-hikers to wait or skip ahead because the snow was simply too deep.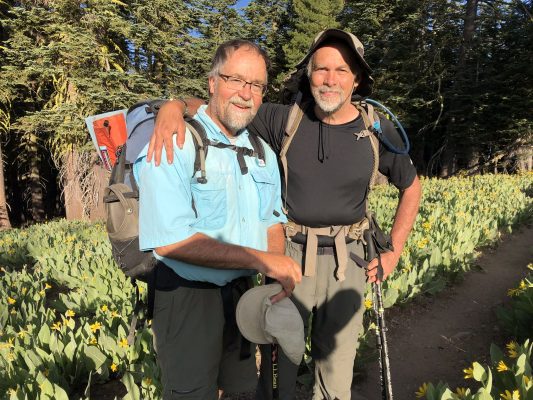 Section hiking also allows us to manage our miles/day better. Most years we hiked about 12-15 miles per day. This year, our goal was 11 miles per day which was very comfortable. We often had our miles for the day completed by 1 pm which gave us a great siesta time in the heat of the day.
Meanwhile, the through-hikers we met along the trail (they were heading north and we were heading south) were all under pressure to hike 25-30 miles per day…some were actually hiking 40 miles per day!! While these hikers were getting up at dawn and walking until dark, we were stopping for breaks on the tops of mountains, taking 2-3 hour lunch breaks with naps, and setting up camp as early as 1 pm and no later than 5 pm every day.
One thing we do on the trail is to have discussions on things like "You are the average of the six people you hang out with. Who are your six people and what characteristics do they have you would like to emulate?" and "What are your goals for the next couple of years?" With 11 miles to walk each day, there is plenty of time to think and discuss many topics.
Not everyone can hike the PCT for 11 miles per day as we did…
so how do you slow down?
Just like in career development, there are many paths to success.
Is through-hiking the PCT in one season better or worse than section hiking? I believe there are times you must be goal-oriented and focused, like the through-hikers doing 25 miles per day (or more) totally focused on getting to Canada by October 1st when the weather turns nasty. And then there are times when we need to slow down and enjoy the moments of life presented to us each day.
For those of you who are "through-hikers" in your careers, "go for it" and push for your goals. But…(there is always a but isn't there?) don't forget that your brain and body need breaks from the intensity.
For those of you who are "section-hikers" in your careers, where the goals are not as intense as some, make sure you carve out the time each day to be "present" with yourself and the people you love.
How To Slow Down
Create a routine in your day that builds in quiet time to either read, write in a journal, or simply reflect.
Set a timer so that you never sit longer than 45 minutes. Then stand up, stretch, do Qi Gong, walk around, and maybe instead of texting or emailing someone, walk over and talk with them.
Practice mindfulness in your day. This can be a simple as eating your lunch or snack with no distractions. No checking your email, watching T.V., or listening to music. Just chew your food, one forkful or bite at a time. Don't take the 2nd bite until you have thoroughly eaten the first bite. Focus on eating only. Clear your mind of everything else. Be mindful of the moment.
Take a short walk to get outside if you can. Being outdoors has scientific proof that it is good for us. (No music, no podcasts, just walk alone or with a friend).
Be "present" when you are with someone. This is a trait that my hiking buddy Howard is great at. When you are with Howard, he is totally with you and you can feel it.
Turn off your phone for a period of the day. Too often, we are "chasing" messages, phone calls, and emails. They can wait. Take control over your day.
If you can, take a "tech-free" retreat for a half-day or a full-day. I try to take a full-day "tech-free" retreat once per month. I write, read, meditate, and plan for the upcoming months. My brother chooses the months of the year that has five Friday's in it, as there can be no 'standing' meetings scheduled on that day. He does his retreat about five times each year.
There are many ways to slow down in our lives, but all too often, we do not take advantage of it. My backpacking trips help reinforce the importance of slowing down. When I am off the trail, I often think back to our 11-15 mile days and how I feel when I can remove the clutter of our fast-paced world.
I'd love to hear what you can do to slow down in your day.
Please share your thoughts here.
Jim Peacock is the Principal at Peak-Careers Consulting and writes a monthly newsletter for career practitioners. Peak-Careers offers discussion-based online seminars for career practitioners focused on meeting continuing education needs for CCSP, GCDF and BCC certified professionals as well as workshops for career practitioners and individual career coaching. He is the author of A Field Guide for Career Practitioners: Helping Your Clients Create Their Next Move
Sign up here to receive my TOP 10 TIPS WHEN WORKING WITH AN UNDECIDED PERSON. You can also receive the career practitioners newsletter which includes a variety of career topics, industry news, interesting events, and more.