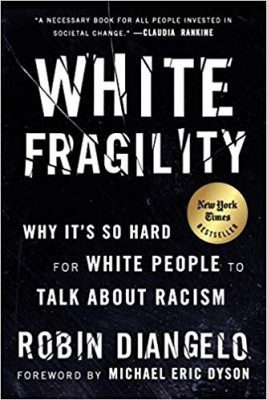 White Fragility: Why It's So Hard for White People to Talk About Racism. By Robin Diangelo
I grew up outside of Detroit Michigan and was 11 years old when the riots happened and I have worked hard to question my view on race over the years. Living in Maine where 95% of the people identify as white, I seldom find my beliefs, attitudes, and values on race challenged.
This book challenged me.
Most of our American culture is run by whites. (from page 31)
10 richest Americans – 100% white
US Congress – 90% white
US Governors -96% white
Top military advisors – 100% white
People who decide which TV shows we see – 93% white
People who decide what news is covered – 85% white
People who decide which music is produced – 95% white
This means that policy, laws, and interpretation of these is from a predominantly white perspective which she calls 'white supremacy'. When I hear that phrase I immediately think of the alt-right…not my views. But Robin has challenged me to be critical of my views and to not get defensive when my view, beliefs, attitudes, and values are challenged when it comes to race.
Parts of this book were hard to read because "that's not me" kept creeping in, but she points out that that view often diverts the thinking and discussion away from racism when I really need to internalize my own thinking about race and "own my racism" because we (whites) all have racism inherent in our culture and until we deal with this it will always be a problem.
So challenge yourself and read this book. I have lots more thinking to do on this topic but I am much more aware of my cultural biases now.