The Negotiator: Reflections on an American Life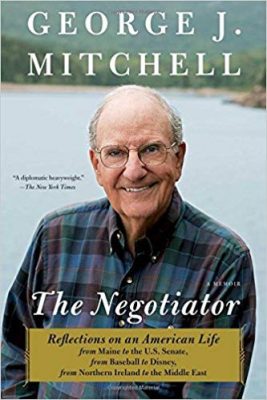 I would vote for this man. Doesn't matter what, he has my vote. George Mitchell is one of the most grounded intelligent people I know. I've heard him speak a number of times and will go out of my way to listen to him speak. He grew up near me in Waterville Maine and returns often to Colby College to speak.
His ability to tell a story and give you the essence of what went wrong and right is wonderful. This book tells about much of his life from growing up in Maine in the Lebanese community, to the U.S. Senate, his role in major league baseball and Disney, to Northern Ireland's success and the difficulty in working to resolve the conflict in the Middle East.
Senator Mitchell's ability to sift through details and complicated issues from varying points of view have made him a great negotiator. But most importantly he is a man who has great integrity and a purpose in life to 'do the right thing'.
I need to return this book to my friend who loaned it to me, but I am tempted to buy it and keep it on my bookshelf to remind myself how to live life best.