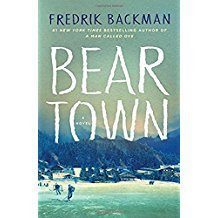 Wow, this was recommended to me because it is a "hockey" story but I found out quickly it was MUCH more than a hockey story.
Chapter 1: "Late one evening toward the end of March, a teenager picked up a double barreled shotgun, walked into the forest, put the gun to someone else's forehead, and pulled the trigger.
This is the story of how we got there."
Yep, there is a hockey team and a town in Scandinavia somewhere that is crazy about hockey but the stories of the different people's lives is so powerful. Backman does a wonderful job at getting us inside so many different people's heads and the personal struggles they have. And then weaves them all together in a gut wrenching story. Troubling for sure.
This is a book that I had trouble putting down. Well written. Tense. Really got to know the characters. And really felt for them and their struggles.
Oh yeah. It took the entire book to find out who pulled the trigger.