Welcome to another Peak-Careers interview. My guests today are Joe Smith,
Principal Technical Recruiter for Thrasio and Jessica Campain,
Career Counselor for Maryland Department of Labor.
What we explore:
What are your favorite TED Talks for your own self improvement?
What are your favorite TED Talks for your clients?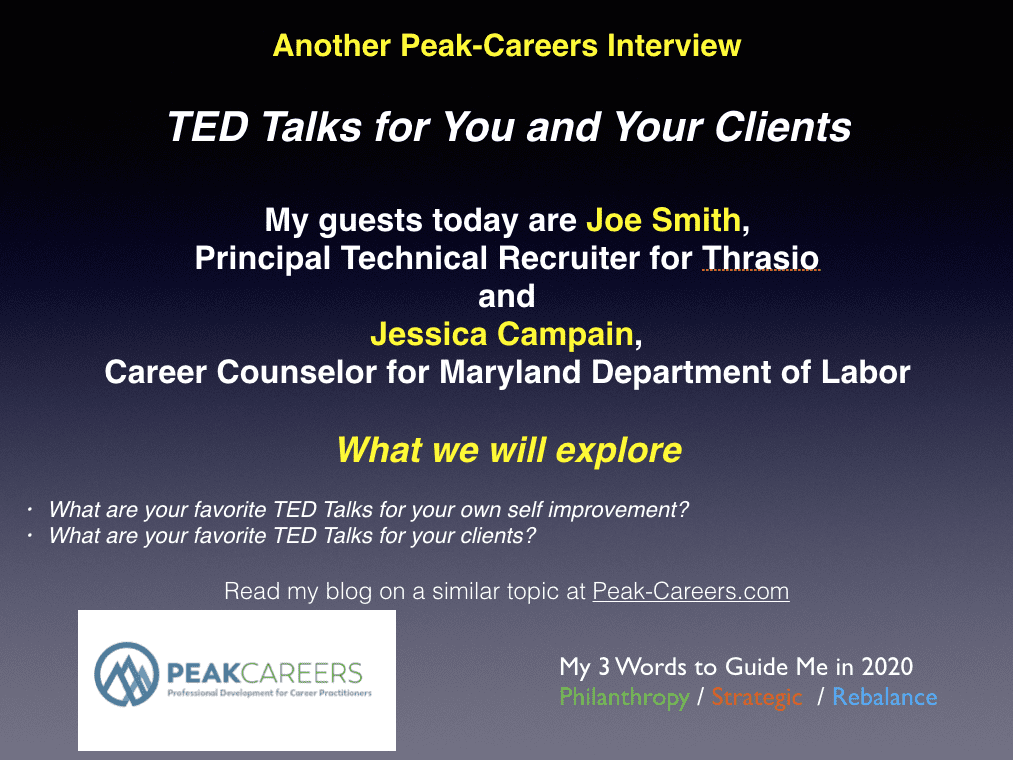 I mention this Ted Talk in the interview and want to make sure people can find this talk. Kelly McGonigal's TED Talk, "How to make stress your friend." 14.28 minutes. It dovetails with her book, The Upside of Stress: Why stress is good for you and how to get good at it. The book title pretty much says what's cool about the talk.
Jessica also mentions; Time bending — 365 ways to unlock creativity and innovation | Ken Hughes | TEDx University of Nicosia
Here is my most recent blog on this topic that refers to the Renee Brown TED Talks Jessica speaks about. READ MORE
TED Talks for Professional Development
BIO's
Joe Smith is a Principal Technical Recruiter for Thrasio, a fast-growing  Fulfillment By Amazon (FBA)  eCommerce company headquartered in Walpole Massachusetts. 
Joe started working in career services in 1998 for Salve Regina University doing employer relations. During this time he realized his passion for working with students on the transition from college senior to professional employment. He arrived at Northeastern University in 2000 to do employer relation and work with graduating seniors.
As Joe met with recruiters he began asking, "Where are my students failing in the interview?" These conversations lead him to focus more on a job's skills for resume development and interview preparation, than the usual student type answer of …I am a hard worker, team player, good communicator and people person. What are you skills for this job? Joe has been recruiter since 2005 and since 2007 hiring new college graduates into various roles across the United States, APAC and Europe.
Jessica Campain is a veteran and a Nationally Certified Counselor. She enjoys working with youth, families and individuals focused on personal and spiritual development. Her passions include finding and sharing strategies for living the happiest and healthiest life possible. She delights in sharing shortcuts and insights with groups in an interactive and lively manner.
Jessica co-creates and facilitates the Mindfulness in the Workplace series for the Judicial College of Maryland. She is currently working with Maryland Department of Labor as a career counselor and facilitates a job seeking skills workshop called JumpStart for the Professional Outplacement Assistance Center. Concurrently, she has just started her own business, Living Intuition, where she offers experiential retreats and individual sessions for people seeking to create harmony between their outer and inner lives.
Jim Peacock is the Principal at Peak-Careers Consulting and writes a monthly newsletter for career practitioners. Peak-Careers offers discussion-based online seminars for career practitioners focused on meeting continuing education needs for CCSP, GCDF and BCC certified professionals as well as workshops for career practitioners and individual career coaching.
Sign up here to receive our TOP 10 TIPS WHEN WORKING WITH AN UNDECIDED PERSON. You can also receive the career practitioners weekly email which includes a variety of career topics, industry news, interesting events, and more.